From 2006
:
It took Matthew Miller two hours from the time he contacted an undercover officer posing as a teenager on the Internet to drive from Indianapolis to Noblesville believing he was meeting a young girl for sex.
Miller, 23, is charged with three counts of Class C felony child solicitation and two counts of performance before a minor that is harmful to minors, both Class D felonies.
Sonia Leerkamp, Hamilton County prosecutor, said that Miller could face up to 30 years in jail if he is convicted of the charges.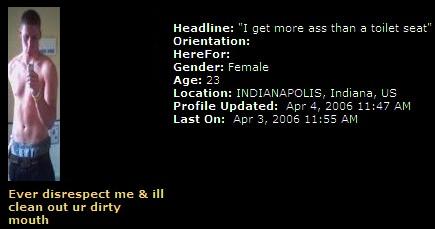 According to court documents, at 2:12 p.m. April 4 Noblesville Police Detective Mike Widner, going undercover as a 13-year-old girl, received an Internet instant message from Miller. After 11 minutes of chatting, Miller began using explicit language and asking about having sex.