Police arrested a man wanted in Oregon who is accused of raping and holding a woman hostage for hours at a home near Eatonville.
Pierce County sheriff's investigators said 22-year-old Buddy Pfaff was on a methamphetamine binge when he became paranoid and pulled a knife.
According to probable cause documents Pfaff began threatening the victim, a 50-year-old woman, and told her she was going to die. The documents said Pfaff held a knife to her throat and repeatedly raped her.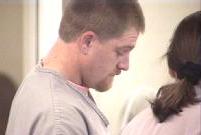 Investigators say Pfaff's roommate managed to talk his way out of the house and then called 911.

Deputies said the victim was able to trick Pfaff into walking outside by saying she needed a drink of water from a neighbor's home and then Pfaff was taken into custody by police.

Pfaff is wanted in Oregon on fugitive warrants for a number of charges.