Full story
:
Hours after he was charged in the grisly slayings of a mother and her two children, Edward Allen Covington's face betrayed no emotion.
Handcuffed and flanked by sheriff's deputies, Covington was silent while he waded through a throng of cameras, microphones and news reporters asking if he felt remorse.
Covington's gaze remained blank. He was led to a patrol car waiting to take him to jail.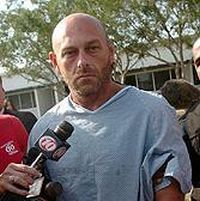 Without saying a word, he was gone.

"We should all be glad that this guy is off the streets," said Hillsborough County Sheriff David Gee.

Covington, 35 and unemployed, told deputies that on Mother's Day he choked, beat, stabbed and mutilated his girlfriend, Lisa Freiberg, and her children, Heather Savannah and Zachary, in the mobile home they shared in Lutz, according to an arrest report.