A former South Lake Tahoe teacher was pictured with children in sexual acts and voiced his love for wearing boys' cartoon underwear, according to an affidavit which contained details of images found in his possession.
Here's some more information I posted in the main site:
Karsten Gronwold, 49, a former second-grade teacher at the Lake Tahoe Environmental Science Magnet School, allegedly used a Lake Tahoe Unified School District laptop to access child pornography, the 11-page affidavit stated.
From What I Have Gathered It Looks As If Mr. Gronwold's MySpace Account Has Been Deleted. However, We Still Have What Looks To Be The Remaining Pieces Of His Y-360, Which Can Be Viewed By Clicking The Following:


Elsewhere On The Net We See The Former Elementary Teacher Post This Message In A Gay Men's Underwear Group At Yahoo: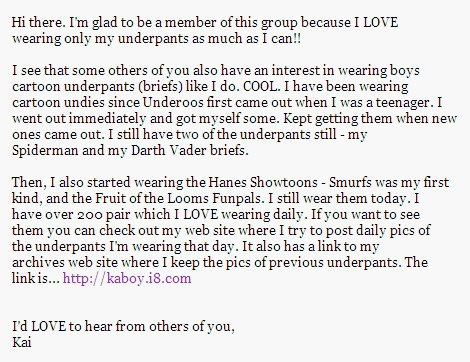 COOL! ?????


Yes, Boys & Girls...This Is In Fact A Grown Man! Anyways This Leads Us To His Still Up & Running Website, Which You Can View By Clicking Here

Please Note, I Advise Some Of You To NOT Click The Video On The Right Hand Corner Of Your Screen, As Some May Fine It Quite Disturbing!

To Think This Man Actually Taught Elementary School & Walked Among Us. What A Sick Individual!

This Is Somewhat Like Our Current MySpace Pedophile Of The Week, Padrefather Who Also Claims To Be A Former Teacher & Indulges In Disturbing Sexual Thoughts Pertaining To Very Young Boys. Certainly Anybody Who Wishes To Spank A Naked 6 Year Old Child For Their Own Sexual Gratification Shouldn't Belong On Myspace Or Online!

Don't You Agree? That's What I Thought...

So Please Use This Link To Report Padrefather To MySpace & This Link To Report Him To The National Center For Missing & Exploited Children.
Eventually he was sentenced to more than 8 years in federal prison.