Daughter reveals suspect previously touched her
inappropriately
:
41-year-old John S. Nagy, of Ravenna Ohio faces charges after his girlfriend caught him chatting about sex with her 13-year-old daughter on MySpace.
According to Detective Shannon Davis, Nagy had been dating the girl's mother for about nine months, and on May 31st while in the her daughter's room, she came across an instant message that popped up on her daughter's computer screen from her boyfriend's MySpace screen name.
According to Davis, Nagy told the girl that he wanted to have sex with her.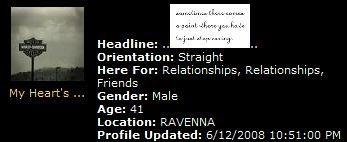 Wise mom took over from there, and intercepted the communication. Her daughter later revealed that Nagy had previously touched her inappropriately.

He was subsequently arrested, and is now free on bond.