Julie Pritchett is a very bad teacher, think police
:
A 34-year-old special education teacher surrendered to police last month after police accused her of having sex with at least eight different boys, including one student.
Police allege that Julie Pritchett, a teacher who worked for
Clay-Chalkville Middle School
started a sexual relationship with a 15-year-old former student. Of course like most kids his age, he bragged to a friend about the incident and that is when police claim she had sex with eight different boys over a three-month period.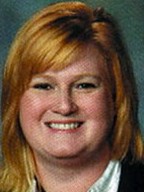 Several of the sex acts allegedly happened on school grounds, while others took place at victims' homes.

She is currently facing two counts of second-degree sodomy and one count of second-degree sexual abuse and has been released on $60,000 bond.

After the initial investigation she resigned from the school, changed her phone number and closed her MySpace account. But even with the MySpace search all bugged out right now, I was able to locate it's ghost and upload it.

Pritchett was also a sponsor for the local girl's baseball team called the Diamond Dolls.