Father left in pool of blood
:
Police in Minnesota are on the hunt for 19-year-old Tony Montex McGee, of Minneapolis, who allegedly dragged his 15-year-old girlfriend out of her home after sending her father to the hospital.
The girl, Alison Leigh Traefald, earlier had requested a restraining order against him saying she was afraid of Tony, and that he had sometimes threatened to kill her and her family.
However, this is not the first time that a restraining order has been filed against Tony McGee. In 2007 a woman claimed that McGee also threatened to shoot her and kill her as well.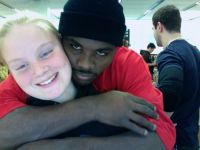 According to court documents, McGee was also extremely possessive of Alison, as well as physically abusive towards her.

McGee's other MySpace profiles can be found here, here and here.
UPDATE: Alison found safe, Tony arrested