Police looking for possible victims
:
Police in California have arrested a 20-year-old man on possession of child pornorgaphy and molestation charges.
Christopher Matthew Merrill, of Rocklin, was arrested on Monday after police conducted a search at his residence where they discovered child pornography.
Police say he was a also frequent visitor at a local skate park in Rocklin and may have befriended local teenagers there.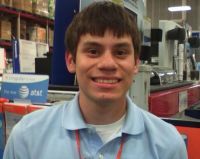 They encourage anyone with any information on Merrill to contact them at the following number (916) 625-5407.

As you can tell from the above Myspace profile, Merrill indeed has quite a few underaged boys listed as friends and his pictures are just downright scary, I'm not even kidding.