"
Jesus" planned to take off in pickup truck
:
A man who claimed he was the reincarnation of Jesus Christ has been jailed after he held his family hostage.
Venel Piervil, 24, of Mount Dora, was charged with kidnapping after holding his mother and two sisters, ages 13 and 7 hostage with a machete.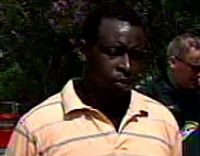 Police say when Venel left the room to go lock the garage, the mother ran down the street to call police. The suspect allegedly then chased her with a machete but couldn't find her.

He is currently being held in lieu of $250,000 bond.