Shawn Wolf murder's innocent girlfriend
:
Police in New York believe an apparent murder/suicide took place yesterday morning at the murderer's home in Ransomville.
According to deputies Shawn Wolf, 19, shot and killed his girlfriend, 18-year-old Kari Gorman, after the two were having having relationship problems for some time. Wolf then drove off to a cemetery where is father was buried and shot and killed himself.
Police found the lifeless body of Gorman at Wolf's home after his mother called 911 while overhearing an argument that took place in his room.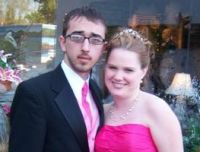 Friends of the victim spoke to a television news source saying that the two had problems the whole time, but she was never able to get rid of him because he would go crazy.

"I'll never get to see (her) again because of a high school relationship," said another.

Yup, that's exactly it...a high school relationship. Amazing, it makes me sick to see all the goosey comments posted on the now dead killer's above MySpace profile. If your going to go, go out on your own, ok? Please for the love of God, stop taking your girlfriends, wives and children.

As for Kari Gorman may she rest in peace to be with her maker.