Alert mother tipped off police
:
A Wisconsin man has been jailed after police say he was soliciting sex from a 15-year-old girl through MySpace.
Anythony Garrity, 22, of Webster, was arrested when the girl's mother checked her daughter's MySpace profile and proceeded to read some of the conversations that the two were having.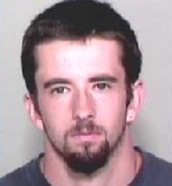 Disgusted, the mother called police who then set up a sting posing as the girl online. Eventually, he was lured to a gas station not far from police headquarters where he was subsequently arrested.

If convicted, he could face up to three years in jail.