Suspect Held On $50,000 Bond
:
Police in Missouri have arrested a St. Joseph man on charges that he possessed child pornography.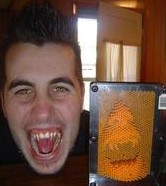 26-year-old Chad Sears was arrested after officers issued a search warrant.

Besides the above profile Mr. Sears maintained another one for his thrash band which can be found here.