Michael Stratton admits it all
:
Police in Indiana have arrested an Evansville man after he drove over 400 miles to have sex with an 8-year-old boy, a 10-year-old girl and their mother.
Michael A. Stratton, 26, had purportedly been chatting with an undercover officer posing as a "mother" who was offering herself as well as her kids for sex.
Stratton, who was looking for "a deeper kind of love" with children had been chatting online with the officer about his various interest in sex with kids, animals and incest in an attempt to persuade her.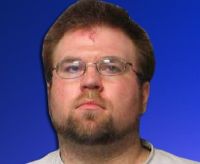 He has since admitted to charges, according to court documents.

Sick, huh? These kinds of stories always make me want to vomit, even worse is Stratton's above MySpace profile which reads "Ready for some Fun!!!"

I'll go ahead now and publish this as I shake my head at the world and run for the toilet.