Conversations lasted two months
:
Police in Colorado have arrested one of their own for allegedly soliciting sex from someone whom he believed to be a minor.
State Patrol Office Justin Tolman, 22, is accused of sending pornographic pictures and making sexual comments to an undercover officer who was posing as a 14-year-old girl.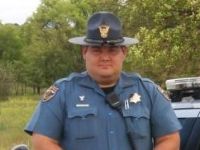 Amazingly, one of the pictures Tolman sent to the "girl" was him dressed in full uniform and standing next to his patrol vehicle.

He is currently in jail and being held without bond.