But also a child molester
:
A babysitter has been arrested in his home state of Nevada for allegedly molesting a 5-year-old.
Zachary R. Harding, 18, was arrested at his residence in Virginia City. Police interviewed the boy, after parents called police upon learning of the allegations.
A search warrant was issued for Harding's computer, where they
recovered thousands of images and videos
of child pornography, including ages as young as 6 months.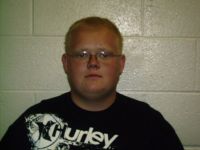 The self-employed web designer's whose website can be found here, is currently in jail awaiting 100,000 bail.

I should note, please if anyone lifts this information or what I really mean is his MySpace profile, it would be nice to be credited for it. After all, this story is over a week old and his profile is nowhere to be linked via anywhere on the web.

Until now...