Suspect solicited sex from young girl online
:
Last year, I told you about Colorado resident Frank Lee Pierce
here
and
here
.
If you remember correctly he was the teacher's aid who was arrested during an undercover sting in which alleged predators contacted minor's online looking for sex.
According to official records, Pierce using the screen name
mysterio2716
, solicited sex and used graphic language describing what he wanted to do to the "girl" who was under the age of 15.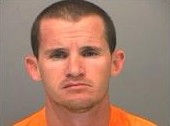 Luck apparently has changed for the former Stober Elementary School aid, because after pleading guilty to luring a child online he got off with a rather light sentence:

Three years sex offender intensive supervision probation.