Stabbed two people at his own place of employment
:
An Illinois man who worked at an apartment building as a handyman has been accused by police of stabbing two people during a home invasion.
Thaddeus Gunnell, 36, Calumet City, was charged on Saturday night with two counts of attempted first-degree murder. He was jailed and is currently being held without on bond as of yesterday.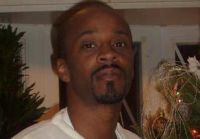 According to investigators, Gunnell stabbed both a 48-year-old man and a 50-year-old woman after breaking into an apartment (the same one he worked at) on Saturday morning. He allegedly had demanded money from the woman, but when she refused he stabbed her multiple times.

The male victim who attempted to aid the bleeding woman was also stabbed multiple times during the attack.

Both the man and woman were later hospitalized and are said to be in fair condition.