Baby suffered massive injuries
:
A 14-year-old father in Airizona has been arrested on child abuse charges after it was revealed that his 7-week-old baby had suffered numerous injuries.
The father, Ismael Robles, of Tucson, admitted to police that he shook the boy, smashed his head on a car seat, pulled his legs and squeezed him.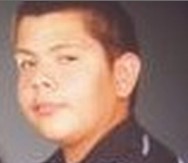 Subsequently, after only being on earth just 7 weeks, the child has suffered two skull fractures, a brain hemorrhage, five broken ribs and two leg fractures. Police say that some of the injuries were as recent as a week ago.
Araceli Jiron, Ismael Robles girlfriend is also said to be 14.

Thanks to the Arizona Daily Star for outing the name of this disgusting child abuser.

For more horrific stories like this one, please visit Trench Reynolds Bad Breeders. He does a great job chronicling various bad parents in the news.