Drilled peepholes in bathroom stall, say police
:
Police in the state of Oregon say a former Indiana man has been arrested after he left images of child pornography in a library bathroom as well as putting peep holes in their stalls.
The suspect, 28-year-old Jonathan Jennings, who had already been identified during a seperate case into child pornography has been jailed on accusations of encouraging child sexual abuse and criminal mischief.
During the investigation, police searched the home where Jennings was believed to have lived at the time and seized computer equipment.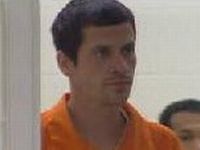 According to his above MySpace profile, Jennings claims to be a photographer who relocated to Oregon last year with his now ex-boyfriend.

Note please, the images stored on his album are just downright disturbing. I'm sure police will stack plenty of other charges as their investigation digs deeper.