Suspect held on $50,000 bail
:
A South Dakota man has been jailed after police say he raped a teenage girl that he met on MySpace.
Nate Rinken, 23, of Sioux Falls is accused of forcing himself on the girl at his home.
According to court files, a 15-year-old girl was picked up from work by Rinken whom she had met on MySpace. From there the two drove to his house where at one point he pulled her clothes off and raped her as she shook her head and said "no."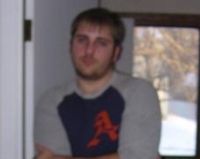 After being raped and in tears, the girl told Rinken to leave the room as she got dressed.
Rinken told police that he did engage in sexual activity with the victim, and that she was unsure if she wanted to have sex.