Two initially met online, say reports
:
A truck driver living in the state of Tennessee has been arrested after allegations surfaced that he raped a woman at a weigh station whom he had met online.
Elvis A. Frazier, 42, of Smyrna, was arrested during a visit to his probational officer in Murfreesboro.
After initially meeting online, Frazier and the alleged victim discussed a meet up point where the two could finally see each other in person.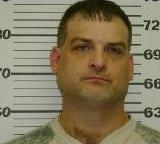 Eventually the two decided that a closed weight station in the early morning hours would be ideal.

Myself, I can't imagine how that would be a good idea to begin with, but apparently that's what happened police have said.