Toddler witnesses attack on mom
:
A Kuna Idaho man has been charged after police say he broke into a woman's house and sexually assaulted her while she was trying to sleep.
Worse yet, officials have said that one of her children, a toddler, had been sleeping next to her in bed and witnessed the whole attack by 32-year-old Jeramie Wayne Kuhlman.
Deputies say the woman was not the intended victim, as Kulman's ex-girlfriend lives in the same apartment but was not home at the time.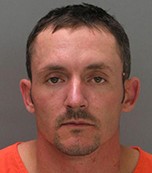 The victim also seemed to handle her own quite well, as she fought off her attacker by punching and kicking him. Meanwhile, Kulhman, who appears to be quite the dumbass left evidence at the scene before fleeing (and getting his ass kicked as well).

He remains in jail on charges of attempted strangulation, battery with the intent to commit a serious felony, forcible sexual penetration with a foreign object, burglary and felony injury to a child.