Suspect received 50 images, say police
:
Police in the state of Kentucky arrested a Scottsville man yesterday after they say he was sharing child pornography online with them.
The arrest of 45-year-old Lenny Ausbrooks came after investigators recovered images of child pornography on his computer.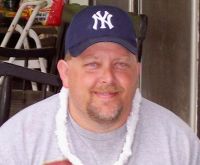 Besides the above profile, Ausbrooks maintained another one on myYearbook, which can be found here.

If convicted on charges of receiving and distributing child pornography, he could face as much as 20 years in prison.