'Minnesota's realest' jailed
:
A Minnesota man has been charged with raping a 15-year-old girl after leaving the
Minnesota State Fair
.
Police say sometime on Friday night, 22-year-old Cory Alan Leyde, of Newport, raped the girl on a picnic table as she screamed and cried.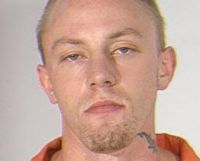 A criminal complaint alleges that both the girl and Leyde knew each other and after the assault she was taken to a local hospital and examined by a nurse where bleeding was found in her genital area.

Leyde was later arrested by Minnesota State fair police and bail has been set at $35,000.