Girl was only 13
:
Police in the state of Utah have arrested a 32-year-old married man after they say he attempted to meet up with a 13-year-old girl from MySpace.
On August 1st, Torrey Jay Copfer, of Layton, was charged with enticing a minor over the Internet. According to investigators, Copfer admitted to chatting with several other underage girls online.
The case against Copfer unraveled when the mother of the victim called police after looking at her daughter's computer and found the disturbing conversations.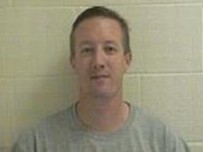 Officials close to the investigation have said that girl also maintained another "relationship" with a different man who is currently in jail on child rape charges.

Police ask that if you recognize any of the following e-mail address that you contact them at the following number: (801) 451-4145.

t.j.photos@hotmail.com, getreal61@hotmail.com, tcopfer@comcast.com and tcopfer@gmail.com

Besides the above profile, Torrey Copfer also maintained another one here, in which he list his age as 25.