Burger King employee soaks it up
:
A massive uproar has taken place at the always classy Burger King after one of it's employees was found to have taken a bath at one of their "restaurants" in the kitchen.
Yes, certainly not the type of story that is usually linked from here, but hey...I need a break from all these monster who are regularly posted here.
Anyway, Timothy Tackett, 25, seems to have created quite an uproar at the popular fast food chain for bathing naked in the cooking area at a certain Burger King location in Ohio.
Of course, Tackett posted the video on MySpace.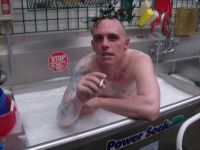 According to an AP article, a spokesperson for the company said two employees have been fired and a third has quit.

But really folks, doesn't Burger King suck anyway? Where I live, everytime I venture the drive-thru area, I see various employees outside smoking reefer during their breaks.
That alone is always a good sign of both personal ambition and excellent parenting, not to mention good business practices.
Maybe Tim Tackett should start looking for employment elsewhere, or perhaps even think about attending college somewhere.

I mean really man, 25 and Burger King?