Officer had met victim through MySpace
:
Back in 2006 I told you about the case of 36-year-old Luke Stidham
here
and magically again
here
in 2008.
To refresh your memory he was the South Carolina police officer who was accused of engaging in sexual activity with a 14-year-old girl that he had met through MySpace.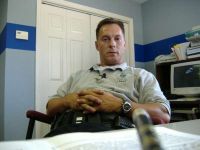 Now it appears the ex Boiling Springs Lake cop has plead guilty to raping the girl. Originally he had faced up to 40 years in prison, but instead took a plea deal to shorten the length of the prison term.

Stidham has been sentenced to four-six years in prison, to be followed by three years of supervised probation.