Suspect jailed in lieu of $50,000 bail
:
Oregon state police have arrested a Oakland man after he allegedly met a 14-year-old girl through MySpace for sexual purposes.
The suspect, 20-year-old Paul Silas Stephenson has been charged with sexual abuse among other charges after purportedly luring the girl to a park.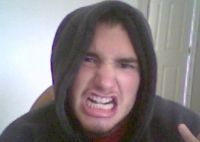 Later, an officer came across a parked vehicle and found Stephenson inside with the girl.

When questioned, Stephenson told the officer that he had met the girl through MySpace a few weeks ago and traveled to Albany to meet her.