Suspect gets four years in prison
:
Back in 2007 I told you about the case of Mario Granados from New Jersey (not Alabama)
here
and
here
.
To refresh your memory, he was one of the many suspects arrested during a major two month long undercover sting into the trading of child pornography online, which was dubbed "Operation Silent Shield."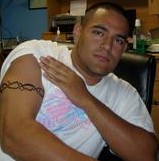 After pleading guilty earlier in June, the 21-year-old Granados was sentenced on Friday to serve four years in state prison. He will be also be required to register as a sex offender.

The children in some of the videos traded by the various suspects during the operation were said to be between the ages of 4 and 9 years old.