"Girl" was only 11
:
A 39-year-old fisherman and paramedic has been arrested after attempting to have sex with an 11-year-old girl.
Police say Charles Giovinco, 39, of Riverview Florida, offered diving lessons and lobsters (yes lobsters) to a father of an 11-year-old girl, if the father would allow Giovinco to engage in sex with his daughter.
If the dad agreed to the deal, the diving lessons and lobsters would all come free.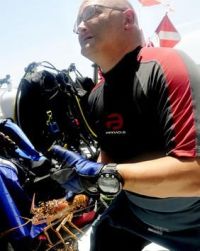 Thank God, there was no father but instead an undercover police officer posing as the father of the girl. Police subsequently arrested Giovinco during a summer long sting, dubbed "Operation Safe Summer".

Besides the 3 above Myspace profiles (which obviously someone cracked into), Giovinco maintained a personal website for individuals interested in learning diving lessons, but he charges people there.