Suspect called himself "zombiekiller90" online
:
In the state of Michigan police have arrested a 17-year-old boy from Adrian on charges that he murdered both of his parents.
According to police, Marshall Sosby had previously told a few friends of his weeks ago that he was going to shoot both of them...then he actually did it!
Deputy Police Chief James Schwartz, issued a statement to local media outlets suggesting that Sosby shot and killed them both after arguing that he was using too many minutes on his cell phone.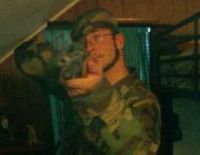 The parents (victims) were identified as Michael Sosby, 40, and Carmen Sosby, 37.

After brutally killing both of them, Marshall then called 911 and told the dispatcher that his mom had shot his dad and then suddenly pulled the gun on herself as a result of being abused.

Later, after being confronted by detectives Sosby confessed to the murder of his parents.

Investigators say during the incident Marshall fired at least three shots, then pointed the gun to his younger sister, and told her that if she told anyone what had happened he would kill her too.

The 911 audio call can be found here.
Sosby has been taken to the Lenawee County Jail and is currently being held without bond.
Steve Huff of the True Crime Report has a lot more information on this case.