Police find suspect armed with two shotguns
:
A Minnesota man has been accused of raping a woman on a desolate country road.
Police allege that Justin Peder Lehrke, 21, of Janesville, drove the victim to a rural location then forced her to get out of the vehicle and subsequently removed her clothing.
He purportedly then drove off, leaving the naked woman all alone in the night before returning shortly thereafter and raping her. After the incident, the victim reported the rape to police who in turn began investigation.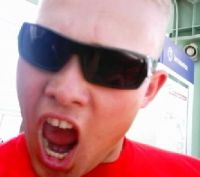 Amazingly, the very next day the Sheriff's Department received a report of a suicidal male who turned out Justin Lehrke.

Officers later located Lehrke in his Chevy Blazer at an undisclosed location. At the time of his arrest, he was armed with two shotguns but luckily was arrested without incident.