Suspect's bond set at $250,000
:
At the age of 18 Jerry Lee Langa is both on the
board of trustees
in his small town of Woodlawn Illinois and now also an accused child molester.
That's not exactly the kind of resume one would want in a densely populated town of just 630, but leave it up to the wizard kid to pull it all off.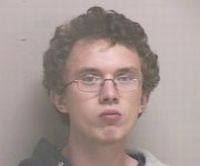 On Monday September 22nd, police arrested Langa on charges that he sexually assaulted a child who is believed to be under the age of thirteen. Officers have suggested that the alleged incident occurred sometime on September 6th.

Much like the below article, there isn't much on Langa. He of course does maintain a MySpace profile (See above) but also a bebo profile which can be found here.