Suspect jailed, then released
:
A 17-year-old Texas teenager has been arrested on charges that he sexually assaulted a little 7-year-old girl.
Brandon Terrell Funches, of Little Elm, who friends commonly referee to as "Bubba", has been jailed after police interviewed both the mother and the girl.
According to court documents, the victim purportedly stated that Funches "put his private part in her tee tee." Investigators have also suggested that Funches tried sodomize the little girl as well.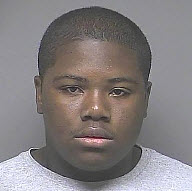 The allegations are rumored to have taken place at a local day care center, where Funches is said to be the nephew of the owner.

According to detectives, the victim told her mother that her "private parts hurt." Surprised, the mother proceeded to examine her and found that her daughter's genital area was both swollen contained small bumps.