Brother found tape of suspect having sex with 4-year-old
:
A Wisconsin man who had
originally plead not guilty
on charges that he videotaped himself engaging in sex with a 4 year-old girl has now apparently changed his plea to no contest according to a
Green Bay Press-Gazette
article.
The suspect, Shawn Carnahan, of De Pere, was arrested after his brother discovered the videotape while looking for something to watch on TV.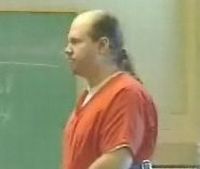 The incident purportedly occurred sometime between May and August of 2004.

He could face up to 85 years in prison when he is scheduled to be sentenced on December 16th.
UPDATE: Carnahan sentenced to 35 years in prison.