Police say Charles Garitson solicited boy for sex
:
In the state of Ohio police have arrested a Hamilton church music director after allegedly arranging a meeting to have sex with someone whom he believed to be a 15-year-old boy.
The suspect, 23-year-old Charles Andy Garitson, reportedly arranged to meet the boy for sex at an undisclosed location. However, much to his surprise he wasn't actually engaging in a conversation with a minor, but instead a police officer posing as one online.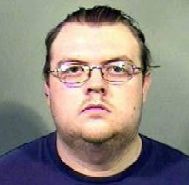 At the time of his arrest, Charles Garitson served as the music director at the Park Avenue United Methodist Church in Hamliton. He also had previously served as an orchestra director for local theatre companies in his area as well as helping local youth at a band camp this past summer.

A search online reveals both his xanga account and a profile on a pornographic gay website. I won't be linking the latter because of the nature of the images on his profile.