Man ran RPG store
:
A really weird 28-year-old Wisconsin business owner has been arrested on charges that he had sex with a frequent customer, who just happened to be only 15.
Police say Jason R. Burridge, of Appleton, has been charged with sexual assault of a child as well as using a computer to facilitate a child sex crime.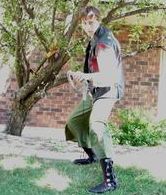 Burridge owns Xenobia, a role-playing game store he opened up earlier in February of this year. The two are said to have started the "relationship" back in July.

Interestingly, on his above MySpace profile, Burridge claims to be engaged. He also maintains a MySpace profile for his store, which you can find by clicking here.