A couple of inbred southern white hicks have been arrested after allegedly
plotting to assassinate
Barack Obama.
Federal investigators say 20-year-old Daniel Cowart and 18-year-old Paul Schlesselman hatched a rather disturbing plan to not only assassinate the senator but had allegedly planned on murdering a total of 88 people, all black of course too and 14 of those would be beheaded.
Reason? Because 88 and 14 are believed to be symbolic numbers in the cousin swapping, mud wrestling, dog touching, wife beating clan of neo-Nazi welfare loving skinhead's.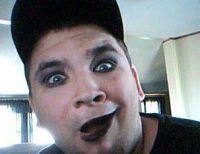 Suspect: Paul Schlesselman
The two dumbasses are alleged to have targeted a predominately African-American high school and then end the "grand" caper with the shooting death of Barack Obama.

According to court documents, both individuals would dress in all white tuxedos and wear top hats during the assassination attempt. The above complaint also states both were willing to die during the process.

Anyway, long story short both have been arrested and are currently being held without bond.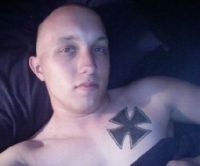 Suspect Daniel Cowart
Cowart also maintained another MySpace profile found here as well as a stickcam here.
Daniel Cowart often used ID's such as daniel_c_1488 and SiegHeilDaniel88 online.
This sort of racist, cowardly behavior can often be found online on forums like these.
UPDATE
: Both suspects plead guilty