Girl was under 12, states reports
A firefighter from the state of Florida has been arrested on charges that molested a young girl who is believed to be under the age of 12.
Joshua William McGee, 34, of Sanford, is accused of touching the girl underneath her clothing and in her vaginal area, states an arrest affidavit.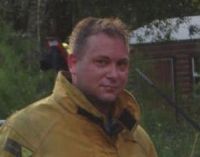 He has been suspended without pay pending the results of the investigation.

McGee, who often goes by the screenname ffjmac1336 online, states on his above MySpace profile that he is currently single and was once a member of the U.S. Army.