Allegedly kidnapped woman
:
21-year-old Justin Lehrke is a little trouble maker, actually he's a psych case if what is being written about him is true. If his name sounds somewhat familiar to you its because last month I posted a story about him
here
.
To refresh your memory he was the Janesville Minnesota man who had been arrested on rape and kidnapping charges after a woman reported to police that she had been sexually assaulted by Lehrke.
Thankfully, they arrested him the very next day where he was found armed with two shotguns and threatening to kill himself.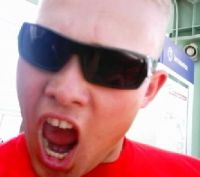 Now, amazingly this same man has been arrested in the state of Kentucky after allegedly abducting that same woman yet again!

Lehrke has been charged with kidnapping and detectives think he was attempting to take the victim to Florida.