Suspect allegedly assaulted 14-year-old
:
A 29-year-old Little League coach has been arrested in the state of Massachusetts on charges that he raped his 14-year-old babysitter.
Police say 6-foot-2 David Coderre, of New Bedford, assaulted the girl at his home in which he shares with his wife and four kids.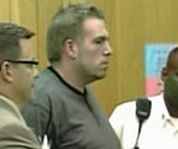 Corderre, who is employed by Wal-Mart, is said to have coached children's softball in his home town for kids as young as eight.
He is believed to have raped the girl twice at his residence in the last month.

The former Little League coach has been charged with indecent assault as well as two counts of statutory rape and has since pleaded not guilty.