Suspect thought he was meeting 13-year-old
:
A 24-year-old North Carolina man has been arrested after police say he arranged a meeting for sex with a 13-year-old girl that he had met online.
According to investigators, Jason England, of Hope Mills, made a date with the child and even persuaded her to meet him at a shopping mall. There the two had purportedly planned to engage in sex.
Luckily, there was no girl but instead an undercover officer posing as one.
I'm sure England sees it all differently though. Yes, he had made a date at a shopping mall, that was true and I'm sure he's not denying that right now.
However, the police have it all wrong. You see, getting past that little part that involved a small child, Mr. England had still planned the perfect evening.
After meeting her, a romantic night would soon quickly prosper. The two would engage in a rather spendy shopping spree including the likes of Armani, Gucci and Prada as well as expensive jewelry at all the various fine outlets in the great city of Hope Mills.
Then under the starry night as the crickets chirped and danced atop the willowy ponds, England and his very young date would partake in an evening of exquisite fine dining topped off with an expensive red wine imported personally from Italy by the chef himself.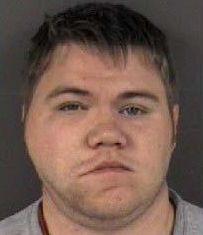 As thoughts and feelings were shared, hours passed and laughter ensued...suddenly, a tiny spark appeared in the left eye of Mr. England as a tear gently rolled down his cheek.

In the background Gershwin's classic "Rhapsody in Blue" tingled both their ears as the night faded to black. Soon the burning candles awaited in a fiery night of passion as England had finally found his one true love in life...a small 13-year-old girl.

Of course, sadly for Jason none of that transpired for him. Instead however he was duped by those ever pesky police. Otherwise, he would have never been caught and his wife probably would have never known about the whole thing.
Damn them all!