Victim had mental capacity of 2-year-old
:
A man who earlier plead guilty to sexually assaulting a 57-year-old nursing home patient has been sentenced to one to five years in prison.
Police had arrested 22-year-old Roy Reed Sheldon, of Moundsville West Virginia in September of 2007 after a 57-year-old woman told a service worker that Sheldon had sex with her at the Dora Allietta Memorial Home.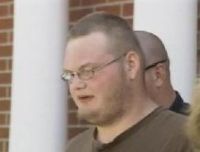 When questioned by investigators, Sheldon claimed the sex was consensual between the two.
But unfortunately for Sheldon police responded back that the woman could not have legally consented because the victim had a mental capacity of a 2-year-old.

Sheldon had been residing at the assisted-living facility with his wife, who had worked there. It has since been shut down.
Previously, I told you about the case of Roy Sheldon here and here.