A Mamet, West Virginia man has been arrested by police on charges that he sexually assaulted a 12-year-old child.
Police say Travis Snodgrass, 24, "inappropriately touched" the girl over a couple of hours sometime back on August 20th. As if that wasn't enough, Snodgrass is accused of assaulting her subsequently thereafter.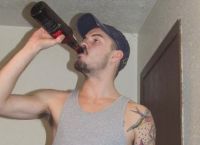 Detective Paris Workman told the Charleston Daily Mail the alleged attack occured at the girl's home where Snodgrass and his girlfriend had been staying.

On his above MySpace profile (yes, those pictures are clickable) Snodgrass writes that he recently had a son earlier this month. Unfortunately for the Newborn baby, his jailbird father seems to refuse to grow up.