May have also tried to poison them as well
:
Police in the state of Pennsylvania have arrested a South Fayette teenager on charges that he tried blow up and kill his family while they were asleep.
The suspect was identified as 16-year-old Christopher Janney and police say he made six "chlorine compression bombs" and placed them near the heads of five of his family members while they were sleeping.
According to the criminal complaint, Janney also may have tried poison his family (even though that's not specifically clear as of now) with rat poison that he had purportedly grounded up using a peppermill.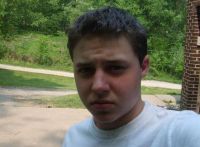 He was arrested on Sunday and officers recovered a gas mask, among various other things. They also believe he had planned on leaving town via bus with an accomplice after blowing up his family.
Police also say that Janney had gotten into a dispute with his grandfather and may have conspired with two other individuals using MySpace.
Interestingly, on Chris Janney's above profile he wrote that he sometimes got along with his parents. I guess in his head you can still get along with some people even if you plan on sending them to their grave in a thousand different pieces.
As of this writing Janney still remains in jail.
UPDATE: A second suspect identified as 18-year-old Thomas Moore has been arrested as well as a third, 15-year-old Eric Evans.