Suspect traveled from NC to FL
:
A 38-year-old firefighter from North Carolina has been arrested after allegedly arranging a sexual encounter with a woman and her 7-year-old daughter.
Police say Mark Floyd Farwell, of Larchmont Circle, contacted someone whom he believed to a woman in an online chat room and purportedly planned to meet her so that he could engage in sex with the both of them.
Luckily, there was no mom and daughter but instead an undercover officer posing as the mother.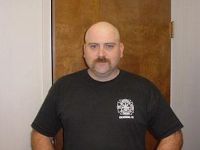 Investigators had been working the case via the internet and telephone for 10 long months before Farwell finally took the bait and traveled to Florida to meet the woman. He was arrested at the arranged location.

Farwell had been employed as a firefighter at Seymour Johnson Air Force Base in Goldsboro, North Carolina.

Besides the above MySpace profile, Farwell maintained another one found here.