Suspect was Iraqi war veteran
:
An 21-year-old Iraqi war veteran has been arrested on charges that he sexually assaulted and brutally murdered a 19-year-old woman that he had supposedly met on MySpace.
Police say Robert Hull Marko, of Decatur Michigan admitted to police that he had in fact met 19-year-old Judilianna "Judi" Lawrence, of Stratmoor Valley Colorado on MySpace and then killed her after meeting her.
According to an affidavit, Marko took Lawrence to Old Stage Road in the Cheyenne Mountain area to rape her, because as he told a detective, "What else do you do on the mountain?"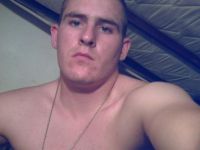 After the Fort Carlson soldier raped Lawrence, the two allegeldy got into an argument and at some point Marko then blindfolded the victim, gagged her and then cut her throat.

Later, it is believed at some point that Lawrence, who fought like hell, was able to free herself and began walking down the hill. Marko then demanded that she go back up the hill, and that's where the affidavit purportedly stops.

Marko originally had told authorities when first questioned that he and Lawrence had gotten into an argument, so he just left her up there in the mountains.

At the time of his arrest, Marko had been assigned to the Fourth Brigade, Fourth Infantry Division at Fort Carson

Robert Marko maintained a personal message board or forum here, as well as maintaining an active VampireFreaks account which can be found by clicking this link. He calls himself Rex290 there as well.
Other places Marko frequented: Plentyoffish, ChristianForums and Flickster as well other sites that aren't as notable. Basically, the 21-year-old displayed himself online as a really, really creepy guy.
He also had been posting various messages like the following one on websites like this, in which he had been seeking "a female slave".
"I'm looking for female slave in Colorado Springs,CO region, my current e-mail is down right now kk, i'm looking for possible offline relationship. I only want females in Colorado Springs region kk, u can pm me here or e-mail me at dragon_dragon290@yahoo.com kk. What i'm looking for is female with no limits and loves pain kk, if u think u are her, hit me up kk"
A few individuals did respond on some messages that he had inquired.
My thoughts and prayers go out to the Lawrence family.
As always, Steve Huff of the True Crime Report has a lot more information on this case.
Sadly, Judi Lawrence shares the spotlight this week with Carly Ryan who was also murdered by someone whom she had supposedly met on MySpace some 600 days prior.