Police arrest suspect 6 months after crime
:
A Portsmouth Virgina teenager has been arrested on charges that he brutally killed 16-year-old girl.
Police say on April 10th, 17-year-old Robert Lee Barnes climbed through the bedroom window of 16-year-old Meghan Landowski, bound her and then proceeded to stab her several times with a knife. He then left the scene, leaving Meghan to die alone in a pool of her own blood.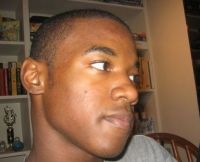 A detective in the case has said that Barnes and Landowski were acquaintances of some sort, but wouldn't proceed to detail the relationship any further.

According to this article and his above MySpace profile, Barnes was a pretty good violin player. In fact, two years ago he even once performed for Missy Elliot. His YouTube page can be found here.


UPDATE: Police believe Barnes discussed Landowski's death online
UPDATE II: Barnes sentenced in murder of Landowski