Woman told officer child was lover
:
A 42-year-old Wisconsin woman has been sentenced to eight years in prison after engaging in sexual activity with a 13-year-old boy that she had been communicating with through MySpace.
Teresa Cantrall, of Oshkosh, was arrested in May after the boy was pulled over for speeding while driving. Yes, that's a true statement. Cantrall allegedly told the officer that she was his mother and was teaching him how to drive.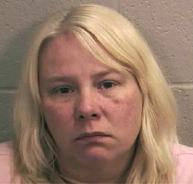 A further investigation revealed that she had been having a sexual relationship with the 13-year-old and according to a criminal complaint, loved him.

If her name sounds familiar to you, it's because I previously told you about Teresa Cantrall here and here.