A Chicago man who is is a suspect in the deaths of the mother and brother of Oscar winning actresses
Jennifer Hudson
is currently being questioned by police,
states an AP article
.
According to the source, Hudson's brother-in-law 27-year-old William Balfour is a suspect in the double homicide murder of Hudson's mother, Darnell Donerson, 57, and brother, Jason Hudson, 29, and public records show that one of Balfour's address list him as an occupant of the home where Donerson and Jason Hudson were killed.
Records also show that Balfour was currently on parole after spending nearly seven years in jail for attempted murder and other crimes.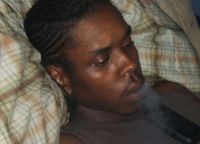 Police are concerned because Jennifer Hudson's 7-year-old nephew, Julian King is still missing. Authorities had issued an Amber Alert on the abducted child who was believed to have been accompanied by Balfour. They got him, but still can't find the boy.

A spokeswoman cautioned that while Balfour was being questioned they were still talking to "a number of people in custody".
On Balfour's above MySpace profile, he calls himself Flex or flexamillion_1, and list his occupation as "baker". By the looks of it however, I'm guessing Mr. Balfour isn't the cookie and bread type of baker.
On his About me, Balfour wrote:
"I AM A 26 YEAR OLD, I RESIDE ON THE SOUTH SIDE OF CHICAGO, I HAVE A WIFE HER NAME IS JULIA, AND I ALSO HAVE A 6 YR OLD STEPSON, I DON'T TOLERATE BULLSHIT, SO DON'T COME TO ME WITH IT, I LIKE TO LIVE LIFE AND EXPERIENCE EVERYTHING THATS WHY I'M HERE SEEING WHAT IT'S ABOUT, I MIGHT AS WELL LET YOU ALL KNOW THAT JENNIFER HUDSON IS MY WIFE'S SISTER I'M PROUD OF HER AND WISH HER NOTHING BUT THE BEST IN WHAT SHE DO BUT DON'T HIT ME UP ASKING BOUT HER, OTHER THAN THAT IT'S ON!"